We are Windsor / Essex County Asbestos Abatement Specialist. We have been serving Windsor / Essex County since 1990 and have developed a reputation second to none. We are fully qualified, insured, and bonded for work as small as floor tile removal in your home, to work as large as asbestos removal from entire factories.
R.C white will design a removal package that is tailored specifically to your needs. We will find the most effective way to remove your asbestos without compromising the safety of our Asbestos technicians or the safety of your family. All our Asbestos Techs are trained on how to properly remove asbestos without allowing any fibers to become airborne.
Asbestos Removal is a complex process; however certain criteria should always be met. That Criteria is as follows:
Before the removal process starts: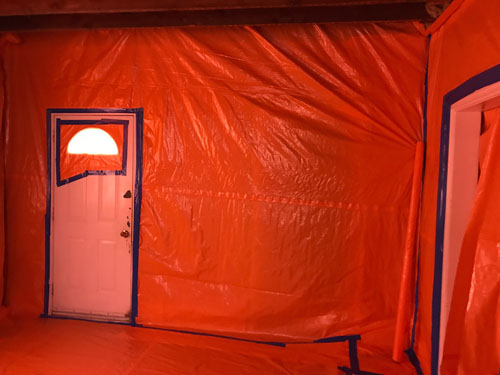 The Room(s) should be enclosures to separate them from the rest of the house or building. This is completed using drop sheets or a rigid structure

All Air vents in the contaminated area should be sealed.

All Visible Dust should be wiped with a damp cloth or vacuum using a Hepa Filtered Vacuum
The Removal Process
The first step is wetting the material to be removed using amended water. This is completed to keep dust to a minimum.

Began removing the Asbestos containing material (ACM) making sure it stays damp during the entire removal process.

Once the ACM is removed we will wipe down the entire area using a damp cloth followed by a final Vacuum using a Hepa filtered machine.

Once the area is cleaned we will spray a lockdown product in order to encapsulate any fibers that may be left behind.

Lastly, we tear down the enclosure and remove the seals placed on the vent.

Please note in some cases we are required to have a third party environmental consultant complete an air test to make sure the air quality meets all government rules and regulations.